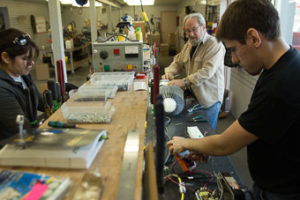 With years of experience in LED application-specific design and manufacturing, Lumisave understands the rapid advancement of lighting science and is committed to meeting and exceeding all industry standards as a leader in the LED lighting market. Lumisave provides
Canadian made and sustainable industrial lighting solutions that rivals all competition.
Production & quality control completed at Lumisave's local manufacturing facilities.
Every single fixture manufactured at Lumisave is tested and must pass through our Quality Assurance/Control procedures. Our attention to detail allows us to further stand behind the quality of our products

All fixture components are tested to certified standards at the manufacturing facility
Each component tested must meet the high standards set forth by the CSA (Canadian Standards Association) and UL (Underwriters Laboratories). Our technicians review all components to ensure compliance and accuracy.
All of our products are certified to CSA and UL standards through ETL (Intertek).

Industrial Life Span
With LED lights lasting up to 50,000 hours longer than traditional light sources combined with our industrial grade designs, we are able to provide lighting products that offer long life cycles. The reliability of LED lighting is also greater than that of HID lighting; LED's don't tend to "burn out" they grow gradually dimmer near the end of their lives, providing ample time for a replacement when necessary.
*80,000 hours pertains to the LED still performing at least at 70% of its initial lumens.

Highly Customizable Solutions
We know your needs are specific, so we're specific too. We provide solutions to fit the most unique applications, whether you need special mounting options, specific lighting patterns or custom voltages, our R&D team is always ready to find a solution to fit your needs.
Hazardous Location Certified
All Lumisave fixtures are certified for hazardous location applications. By working closely with certification agencies we are able to provide industrial grade lighting that adheres to CSA standards.

Industry Leading Warranty & Service Programs
Industrial applications aren't always the most forgiving of locations, our industry leading warranty and service programs ensure added safety and security are in place in the event that any issues arise with our products on your sites. Read more here.

Canadian Made
Our main operations are based in Northern British Columbia in Prince George. All of our products are designed, tested and manufactured in-house by our team of highly skilled lighting technicians. We pride ourselves on the products that we produce and the community we are from. By developing strong relationships with local businesses we have been able to support our local community, by purchasing local.
When you work with lumisave you are working with a Canadian company that embodies community.