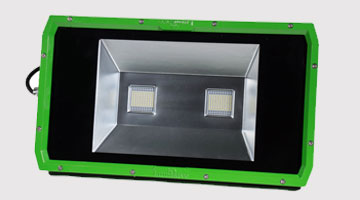 FL 395 – Lumisave Exclusive
Industrial Series Flood Light – Designed, Built, and Tested in Canada
Announcing the FL395, an industrial LED floodlight build from the ground up by Lumisave to stand up to extreme conditions such as in the Coal Industry. This flood light is now our flagship multipurpose light. Many of our current clients have a need for a 2 chip LED flood light that can stand up to extreme conditions that our previous model (the FL390) could not withstand.
Our focus was on creating a fully sealed unit that was durable enough to stand up to the toughest conditions. The new flood light had to be able to withstand high impact, continuous exposure to water, extreme cold temperatures, and be able to withstand high vibration while running on minimal energy and still giving a high light output.
What we developed is the new Industrial Series FL395 LED Flood light that is fully sealed, contains 2 drivers and new Samsung chips. The new Samsung chips can output 150 lumens/watt and we have built in surge protection. The flood light housing is stronger and thicker than our previous model with 3.5mm thickness (compared to 1.5mm in the FL390) which makes the FL395 body more than twice as thick as before.
The interior of the fixture has heat shrunk wiring, dual epoxy filled drivers, and the Lexan lens is mounted to a rubber seal. The Lexan lens is 6mm thick and can withstand extreme force impact without even getting a scratch. All bolts are stainless steel and torqued to bolts' spec.
This new unit is 25% brighter and 10% cooler than the FL390.
Included with the FL395 is the Lumisave HD bracket for mounting to a surface.
HAZARDOUS LOCATION RATED
This is just the first of our industrial series LED lighting products. The FL395 is the most requested product, so we started with it. Our plans for the future are to make available a 70W fixture for smaller LED Floodlight applications. Additionally, the FL395 has been designed with the future in mind…when the technology is ready, we'll be able to upgrade the fixture to run 200W or more.
Why did we choose the Samsung Chips?
After many months of testing 4 different Industrial LED chips, we settled on Samsung chips because they were able to provide a higher light output, running at a lower temperature, and with more consistent colour than any of the other chips we tested.